Thanks to my awesome friends ~
kaioshade
, =
AngelaSasser
, ~
onichan
and ~
kaitou-lili
I have a new computer :3 ~
kaioshade
put it together, because he's awesome and now I have a silent, speedy, up-to-date computer that is beautiful and amazing.
What happened was, my previous computer (Deathcake) had a wonderful run for 5 years. One day, I came downstairs and heard a terrible, high-pitched sound that went away when I turned the system on. Mysterious! I was informed that this was a sign of a dying power supply, and to prevent it from frying everything, I had to stop using it. What I didn't realize is that ~
kaioshade
and =
AngelaSasser
had been plotting to build me a new computer! Unfortunately, Deathcake died just a little too early, so I had to wait a bit. I had my laptop, but the screen was terrible when it comes to scanning in artwork. But now my new computer - No Face - is here and I can scan things :3 So expect a flood of paintings!
Also, 'tis the season for
stuffing yourself until you get sick
CALENDARS! Don't forget about the awesome Horizon Wings calendars that are just begging to be put on your wall! For a donation of $25, we're giving these beautiful calendars. What's better than the gift of helping birds of prey? I can't really think of anything.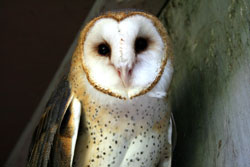 Click Silo's beautiful face to go to the donation page for a calendar, and also to see the photos for each month!
Donations help buy food, medicine and medical materials, supplies to build and maintain aviaries, and more. If you love raptors (and corvids!) you'll love this calendar. I have the 2011 calendar hanging on my wall, and I can attest to their quality. Calendars make great gifts!
ETSY SHOP
:
Windfalcon's Etsy Shop
ART BLOG
:
Featherseeds
COMMISSIONS
:
www.falconmoon.com
, or, send me a note or email me!
PRINTS
:
Here!
PHOTOGRAPHY
:

STOCK PHOTOGRAPHY
: