Free Shipping:
With Dragon*Con literally around the corner (as in, I'm leaving next week), I'm offering an Etsy sale to try to raise some funds for some last minute expenses.  If you use the code DCFUNDSALE from now until Friday in my Etsy shop, you get free shipping in the U.S.!  Woo!  This is especially a good deal when ordering something bulky like a mask, or multiple items.
Windfalcon's Etsy Shop:
www.etsy.com/shop/windfalcon
I've put up some new prints, and a couple of new masks, which you can see in the footer of this journal.  Also as a note, I have a TON of leather feathers on hand, but haven't put them up on Etsy, ranging from 3 to 5 inches.  A list of the ones I have on hand are:

Red-Tailed Hawk tail

Red-Tailed Hawk wing

Barn Owl

  Magpie tail

  Phoenix

  Other raptor leather feathers
You can see a shot of all of the ones I have on hand right now here: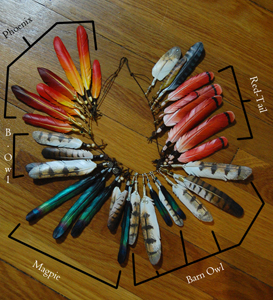 If interested, let me know and I'll put it up for you.  Here's a price list of the feathers, based on size -
windfalcon.deviantart.com/jour…
Bookmarks
:
In preparation for DragonCon, I have also put together some bookmarks!  I have a ton of them, so I am putting some of them up here for sale as well.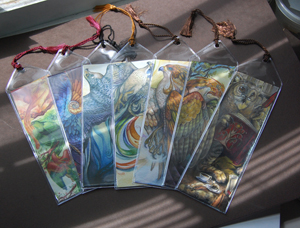 From left, they are Dance of Seasons, Radiance, Bringer of Dusk, Follow my Dream, Conjure, Protect Me, and Scribe.  I have a bunch of each, so there's plenty to go around.  They are $5 each which INCLUDES shipping :3  These bookmarks are 2.5 X 7 inches and include a tassel.  If interested, let me know via comment or note!
ETSY SHOP
:
Windfalcon's Etsy Shop
ART BLOG
:
Featherseeds
COMMISSIONS
:
www.falconmoon.com
, or, send me a note or email me!
PRINTS
:
Here!
PHOTOGRAPHY
:

STOCK PHOTOGRAPHY
: